"The health dashboard is visually great and gives a good breakdown of our financials in one place. We love the programming features and the RPE. It makes communications between our coaches and members easier"
Warren - Infinity Fit
Customise For Your Gym
Programming
We've built programming with simplicity in mind. Build a full weeks' worth of sessions side by side and easily switch between any different programmes you run. Calculate individual percentage targets for each member easily to allow them to challenge themselves safely. Add workouts or exercises straight in from the extensive library or build out your own without restrictions.
Customise programming settings to keep sessions completely hidden from your members until the time you choose to reveal them. Opt for workout levels instead of standard RX and scaled, scramble leaderboards to take away any over-competitiveness and much more!
Don't want to set your sessions to a particular day? Opt for Floating Day programming where you can build out sessions and attach them to a week instead. Members can choose between the available sessions and complete them on whichever day they choose. Add in a weekly or monthly focus too to give members and/or coaches either a video tutorial or write up of the intention for the week. Add in a workout for a little bit of extra programming for members.
Download 3rd Party Programming and choose from our providers including CAP, JST and Mayhem (Mayhem coming soon!) Head to our Marketplace for more information.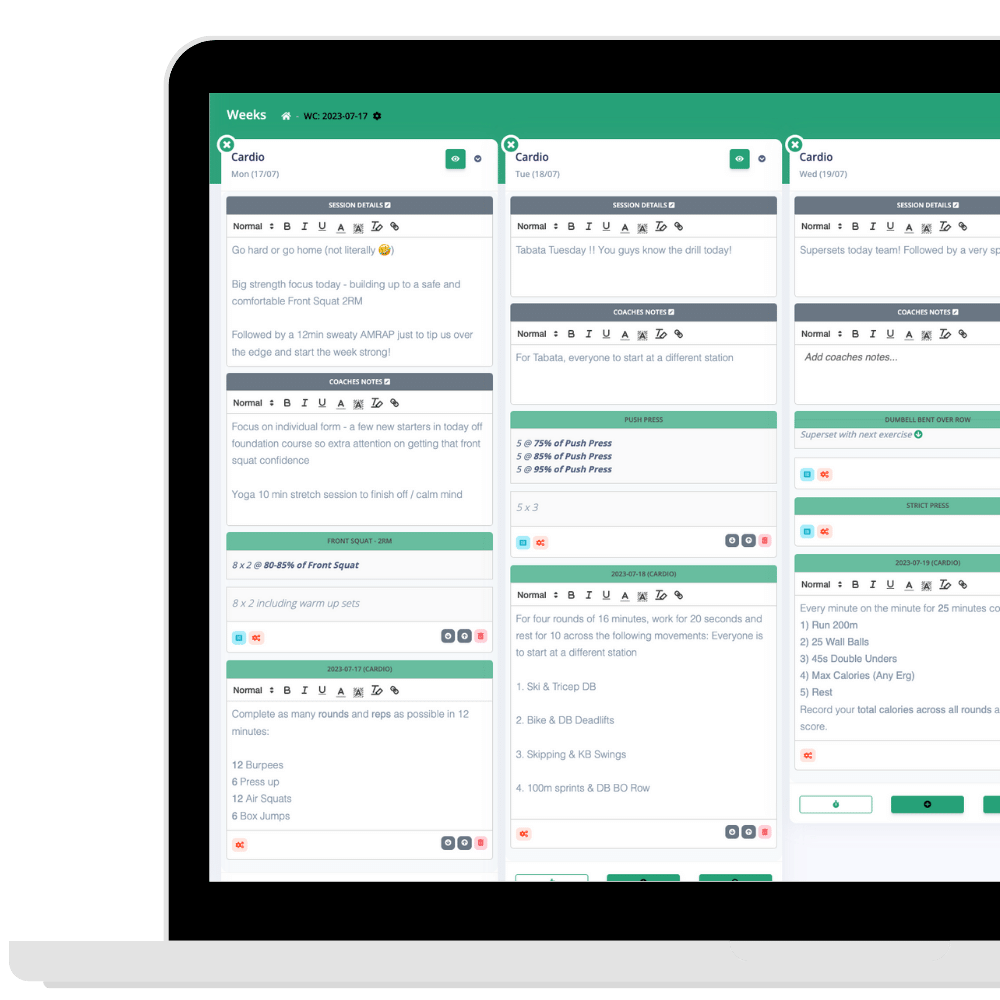 Coach from the TV
BoxMate Live - The Big Screen
Upgrade your coaching with our digital whiteboard. Live is included in all standard BoxMate subscriptions and means you can display your programming on a large screen in the gym.
The display is customisable so you can show member scores leaderboard style, or scrambled. You can play any videos to demo techniques right from the live screen and use the mid-class tools like the percentage calculator or on screen stop watch to help you coach with ease. Dual Screen Functionality lets you host different displays on different screens.
Keep things moving with TeamUp class registers and mark members as attended or no show.
Signed up to PLUS? Your live screen will be branded in your own colours to fit in seamlessly with your gym styling.
**You will need to have your own TV and internet at the gym for this to work.
"Absolutely love everything about BoxMate - the interface, easy use and just how well it fits in with my gym and our members. I like the easy access to the programming and the integration with TeamUp for class bookings"
Paige Boland - The Unit
Simple Reporting
Dashboards
Your business health dashboard brings your key business metrics together in easy to view graphs and charts. You can dig into the data that helps you run the gym - such as MMR, ARM and LTV. Keep a close eye on your most popular class and training times to help you make business decisions. This dashboard is powered by TeamUp and is only switched on if you are a gym who uses this booking system.
Your coaches dashboard gives you an overview of today's classes and who is attending (if they're linked with a TeamUp account). You can interact seamlessly with your members through setting them personal goals, sending them nudges, writing comments and giving out high fives on the live timeline of activity. Edit the daily session right from the dashboard too!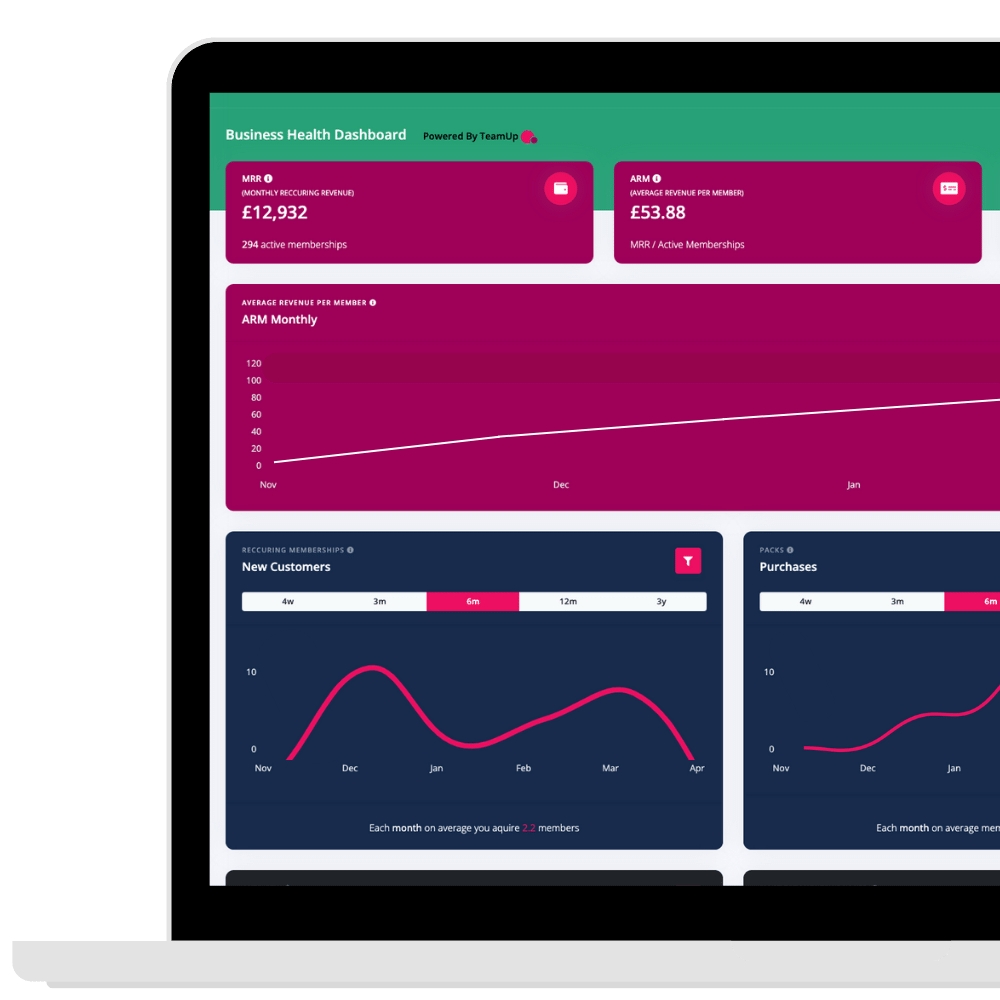 Bring your community together
Communications
BoxMate gives you tools to communicate with your members in the way you need to. Messaging enables one-to-one messaging between coaches and members, nudges are quick push notification messages to members letting them know important information and questions is poll style questioning to get quick stats from your members.
BoxMate News works like a private blog or newsletter for your members. You have powerful insight and retargeting tools. Posts include a 'call to action' field where you can add an external link to send your members where you want them to go. The link is highlighted in the app with a large action button and you can track how many times it's been clicked and who has followed it.
All of your communications tools work form your admin area on your laptop, and you can also access them from your Coaches' Corner through the app for on the go communicating.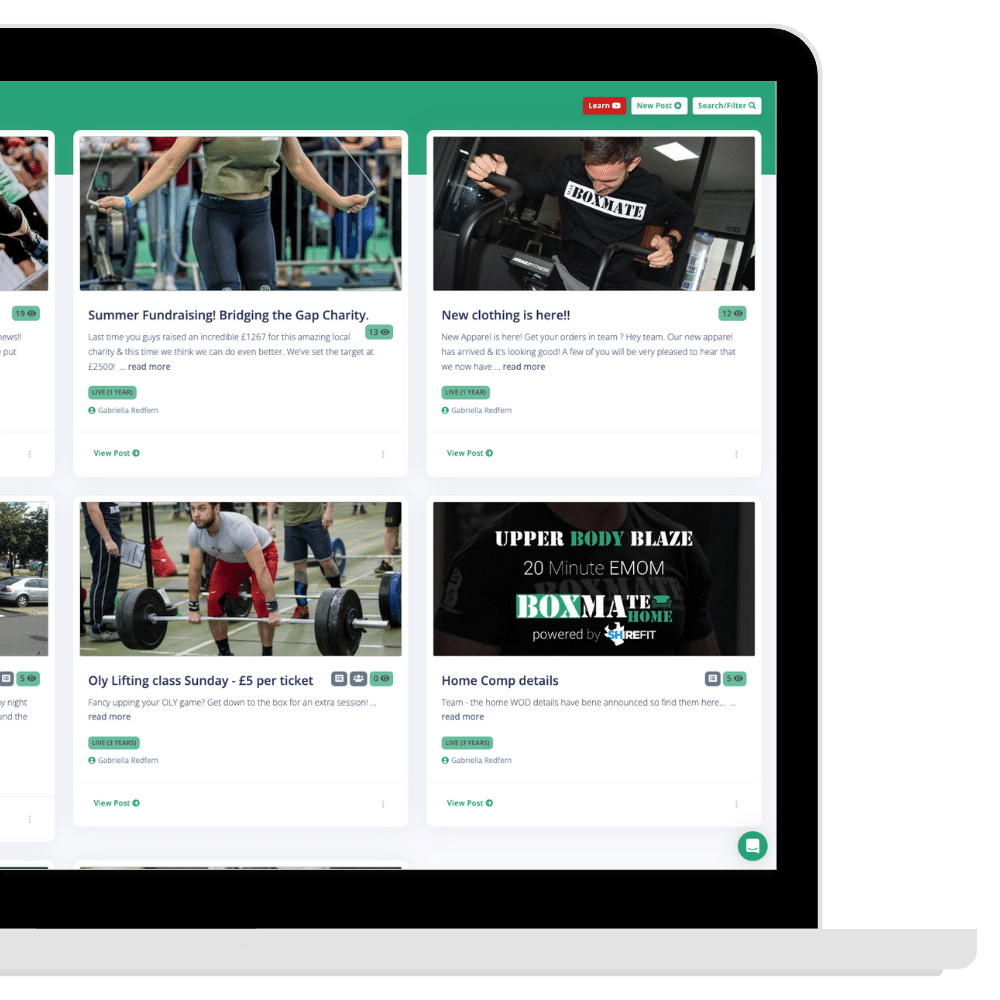 Never lose a lead again
CRM
The BoxMate Customer Relationship Management system will make sure you never lose a lead again. Host your customised landing page form on your social media channels and website to capture the information you want from potential customers to bring them straight into your New Lead funnel.
As customers make purchases for memberships on TeamUp they will auto-progress through your customer journey. You can make notes, keep track of any interactions you and the team have had with them, schedule introductions, send invites and much more.
The BoxMate CRM comes free with all standard BoxMate subscriptions to help you run your gym business efficiently.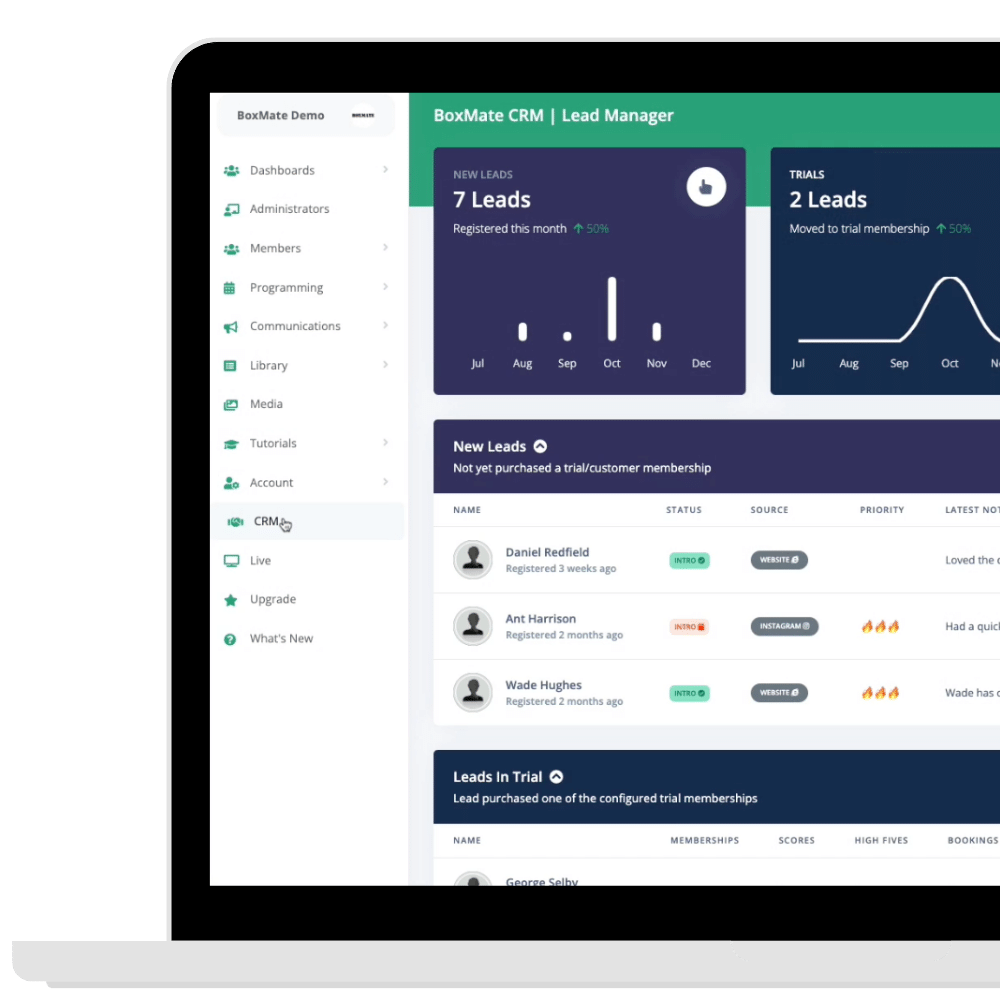 "I love the new CRM. I was doing this all manually before so this is great. I prefer the new layout too and engagement with members is great"
Liz Steele - CrossFit Fixus
Personalise Your Experience
Customisable
We understand that no gym operates in the exact same way. That's why we are always working with our gym owners to add more options and settings to give you the power to customise BoxMate to function exactly how you need it to.
We've developed unique programming visibility settings so that you can choose to display programming when you want your members to see it.
We also know that not every gym has, or wants to create, a super competitive environment. So, we give you the option to disable the classic CrossFit Scaled/ RX/RX Plus scoring and leaderboards completely. Workout levels can replace this as a more gradual scaling option for your members.
Every individual at your gym has the option to keep their profile totally private if they prefer to just keep a personal training log between themselves and their coaches.
For our boxes with multiple locations and gyms you have the ability to filter all your information on members and programming at either box location. This means that your members can filter not to see names they don't recognise from a gym they don't train at.
BoxMate PLUS lets you go even further and customise the look and feel of the app with your own branding and colours. Find out more about PLUS here.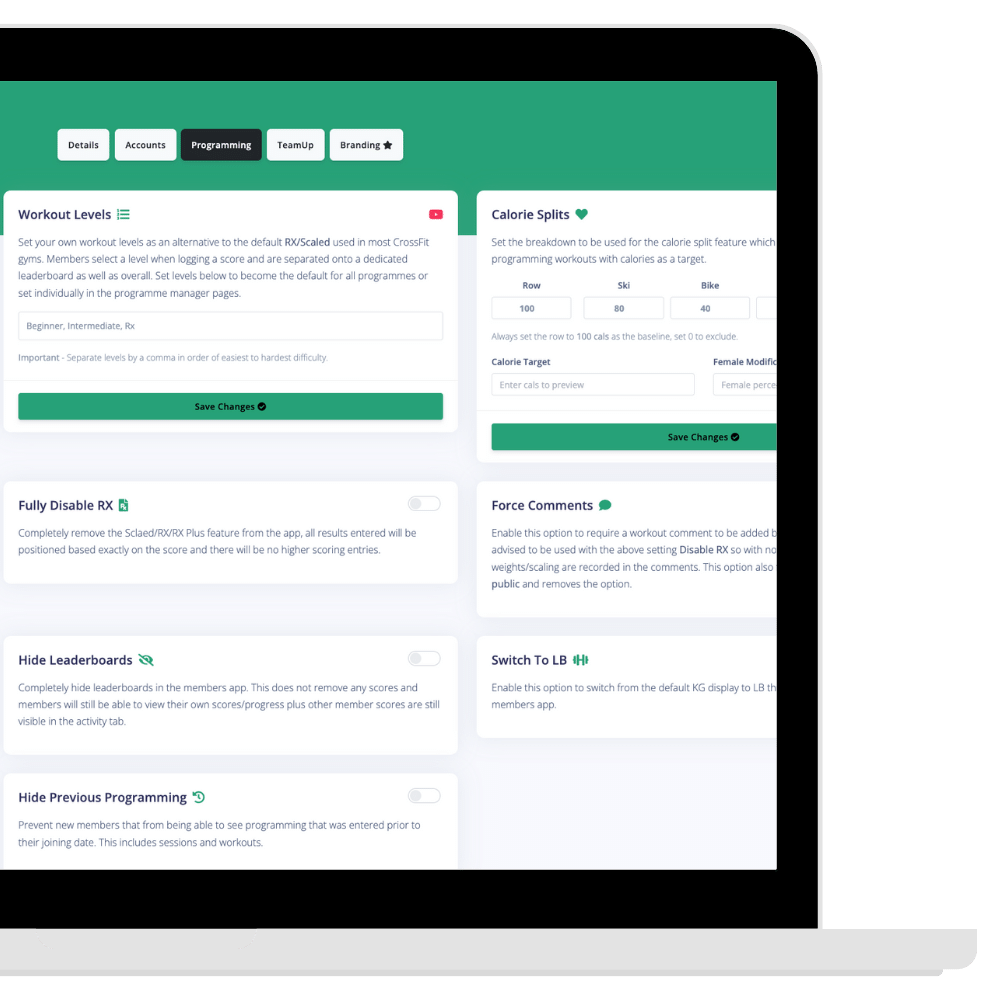 Retain Members Through Motivation
Member Achievements
Help your members feel success for their performance and hard work in the gym. Set goals and then give them a little nudge. Once they hit their goal they'll be rewarded with confetti making them feel amazing.
Member Spotlight will help you show your members that you see and recognise their hard work! You can put a member in the spotlight as your Member of the Month with a picture and write up to celebrate their efforts!
Members will also receive automated badges for attendances and hitting other milestones in the gym. You and your coaches can award special coaching badges to your members too.
Our challenges feature is designed to help you build custom challenges to keep your members accountable. Whether this is a 6 week nutrition challenge where you'll be providing a daily meal plan & want members to check off the day as complete, or whether you're running a 50 mile running challenge throughout the month and want members to input the miles they've managed - we've got you covered!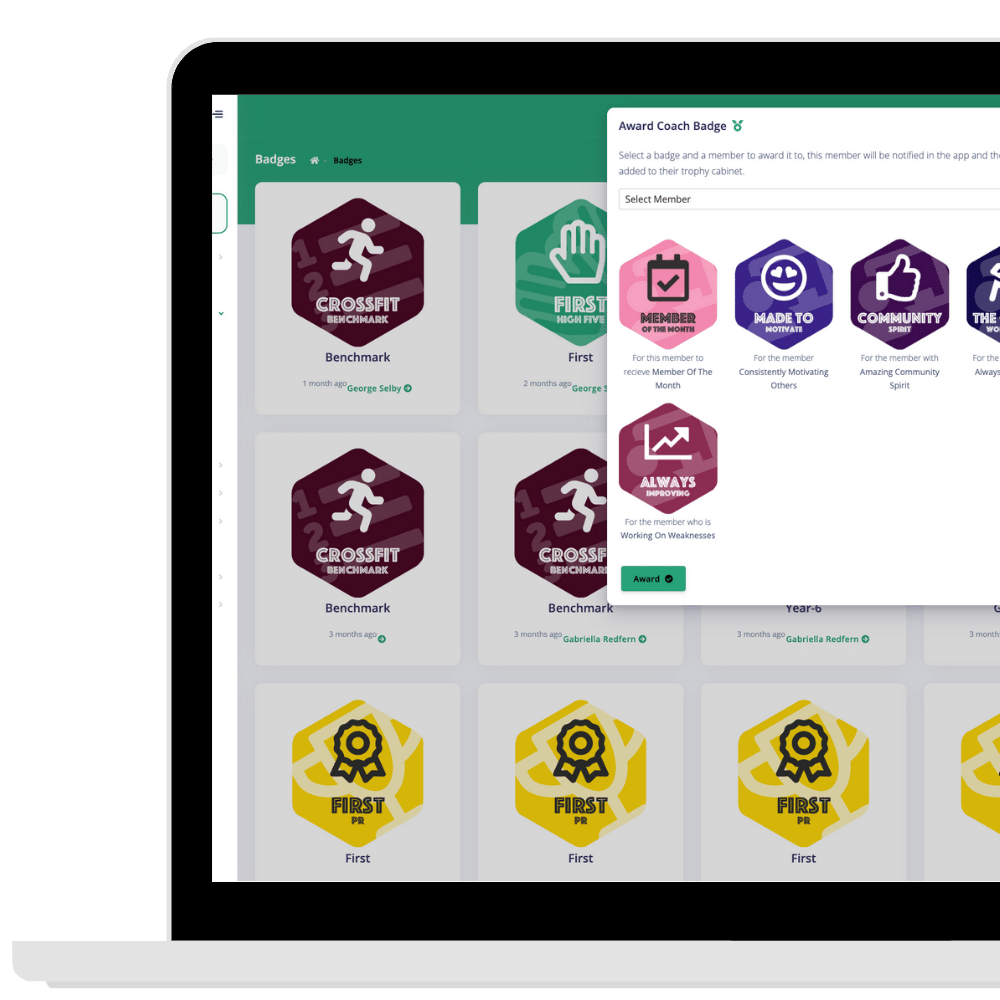 Upload Videos and Images with ease
Media
You can upload your own images and videos throughout BoxMate. You can attach an image or video to your daily session, to a specific workout or exercise and to your News posts and spotlights too.
You can also add a daily picture of the whiteboard to the session so members can easily find the image of the whiteboard that day (if you log member scores on the board this way). Members can upload their own images to the activity feed along with their statuses and link directly to instagram posts too!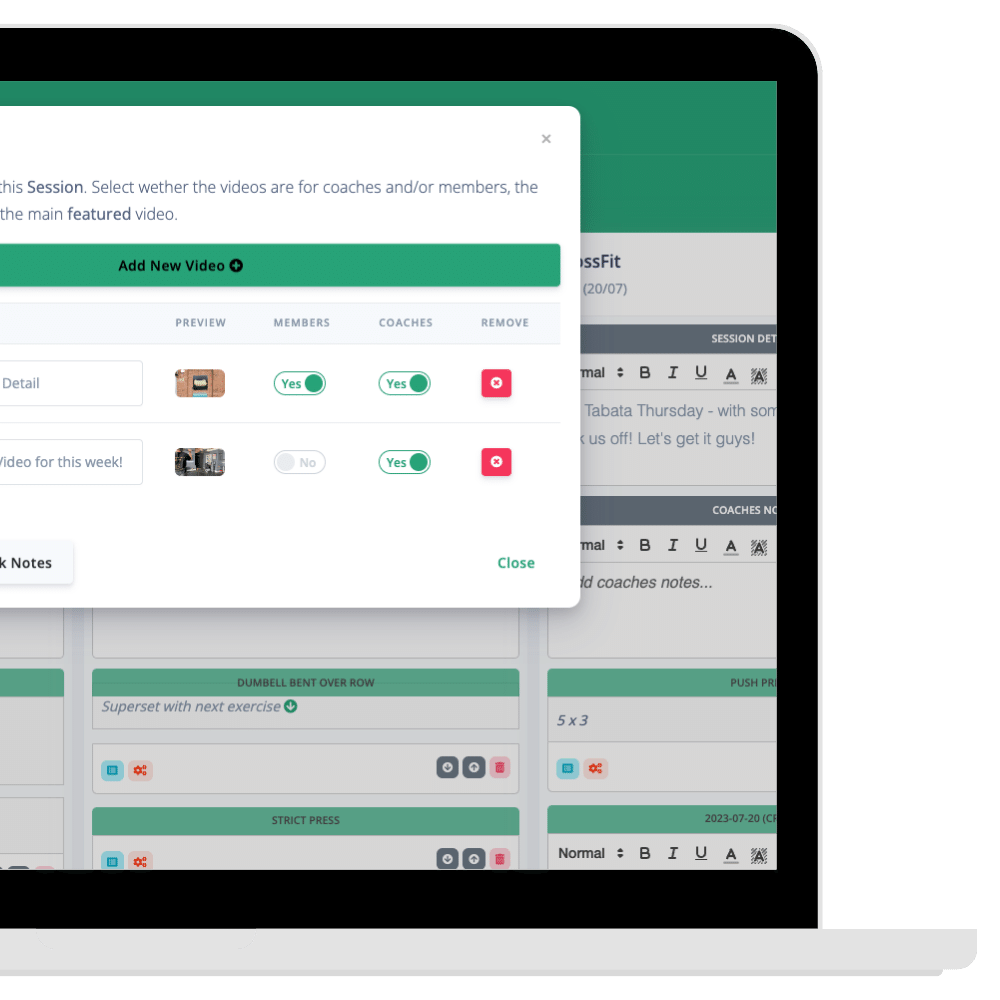 Make Planning Programming a Breeze
Programme Analysis
Data tag your workouts with CrossFit Level 2 style data such as Modality, Load, Scheme, Time, Reps, Origin and Priority. Our programming analysis tool will then help you understand your programming and areas that might need more focus and attention to help you plan your sessions effectively to get the most out of your members.