Track your progress
Logging Scores
Tracking performance is the ultimate way for your members to see the progress they've made. Seeing real results is key for member retention and keeping your members motivated and invested in the gym!
If your gym uses TeamUp members can book their classes right from inside BoxMate- keeping everything in one place. With BoxMate your members can view the daily programming, book their classes and log their scores in their own personal library to see graphs of their progress. Confetti screens and badges will reward members for their hard work and help them celebrate their achievements.
We know you and your members have busy schedules, so logging scores shouldn't feel like an extra chore. With BoxMate, logging scores is quick and simple and with TeamUp, your members can turn on prompts to remind them to log once they've trained.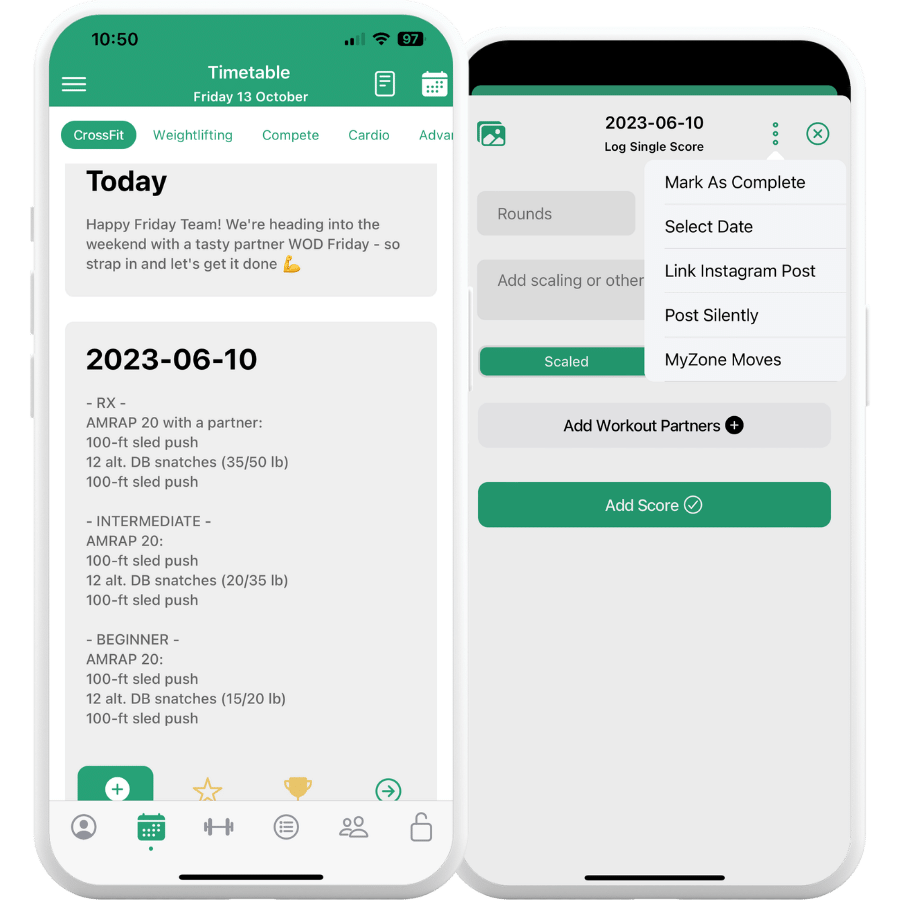 Keep everything in one place
TeamUp and Class Booking
BoxMate with TeamUp means a single app for your members to book their classes and log their scores.
Our quick and easy to use timetable swipes left and right to move through programmed sessions for the upcoming week. Once members find the session they want to book they simply scroll down and hit: Book Now. They can join waitlists, cancel classes, and view extra sessions to make purchases outside their membership allowances.
Members can easily see their own TeamUp information and which memberships are active, which have been cancelled, how many remaining classes they have left for the month and more!
Learn more about our integration with TeamUp here.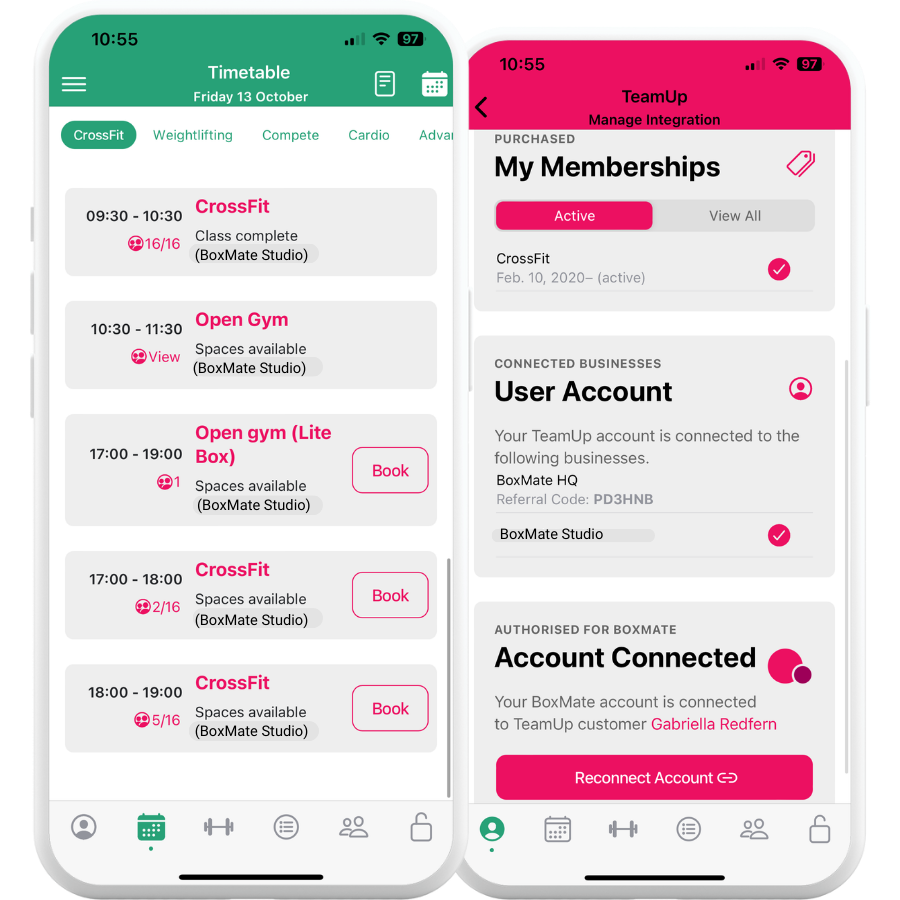 Get 30 days completely FREE- no card details required
Stay in touch with friends
Social Feed
When your members join your gym they become part of the family. Naturally, some members take more time than others to feel fully integrated. With BoxMate they can get to know names quickly, chat on the gym feed and keep in the know with social events going on.
The gym feed is the social hub for your members to get together and share the highs and lows of training. Members can comment on each other's scores and keep the competition and fun going long after they walk out of the gym doors. With emoji reactions and mentions members can let their friends know exactly how they're feeling!
Members can write custom status' to start conversation threads, share links to fundraisers, or share pictures from weekend runs and training events to their friends in the gym. The gym feed helps to keep your members connected and means everyone can feel integrated as part of the community.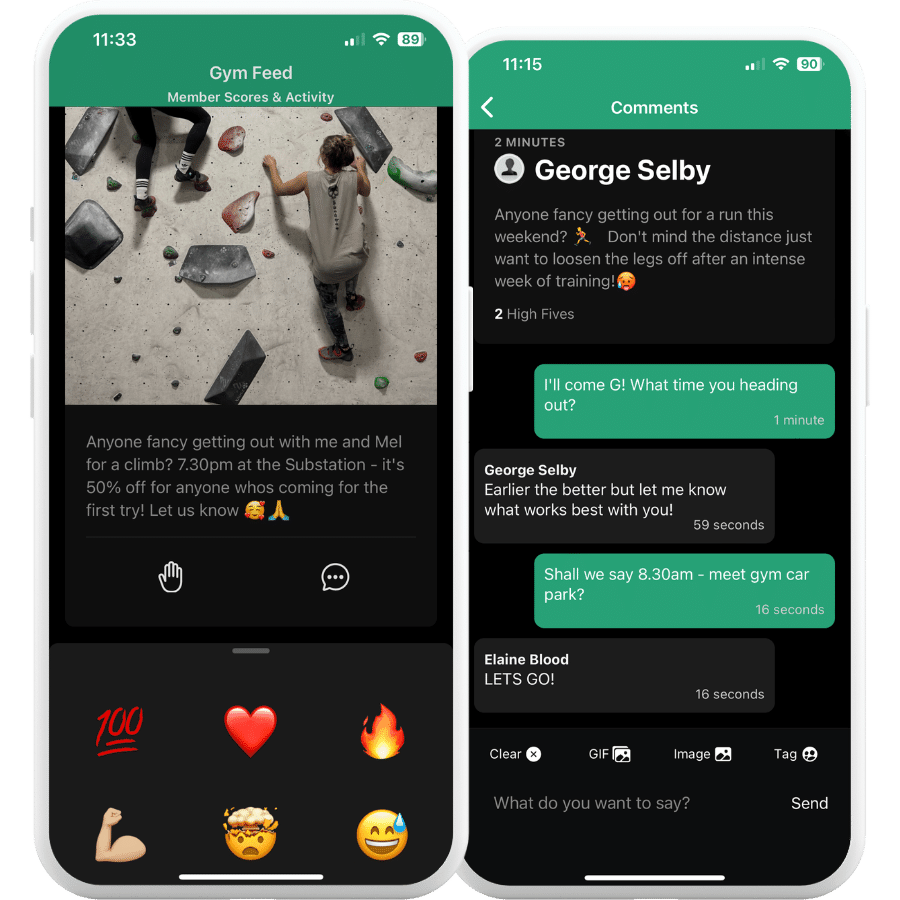 I love this app! So interactive & easy to navigate - great job!
Hear from your coaches
Communications
Nudges and Messages allow you to break down any communication barriers with your members. Send instant notifications to get information out to members or to congratulate a brilliant session. Chat back and forth through 1-1 messaging between coaches and members too.
A private box news feed inside the app keeps your members in the loop with what's going on in the gym and any events that may be coming up. Any unread news posts will show up on their homepage so you can be sure it won't get missed. Once you send out a question, or multiple questions as part of a survey, your members can send in their answers with a simple tap.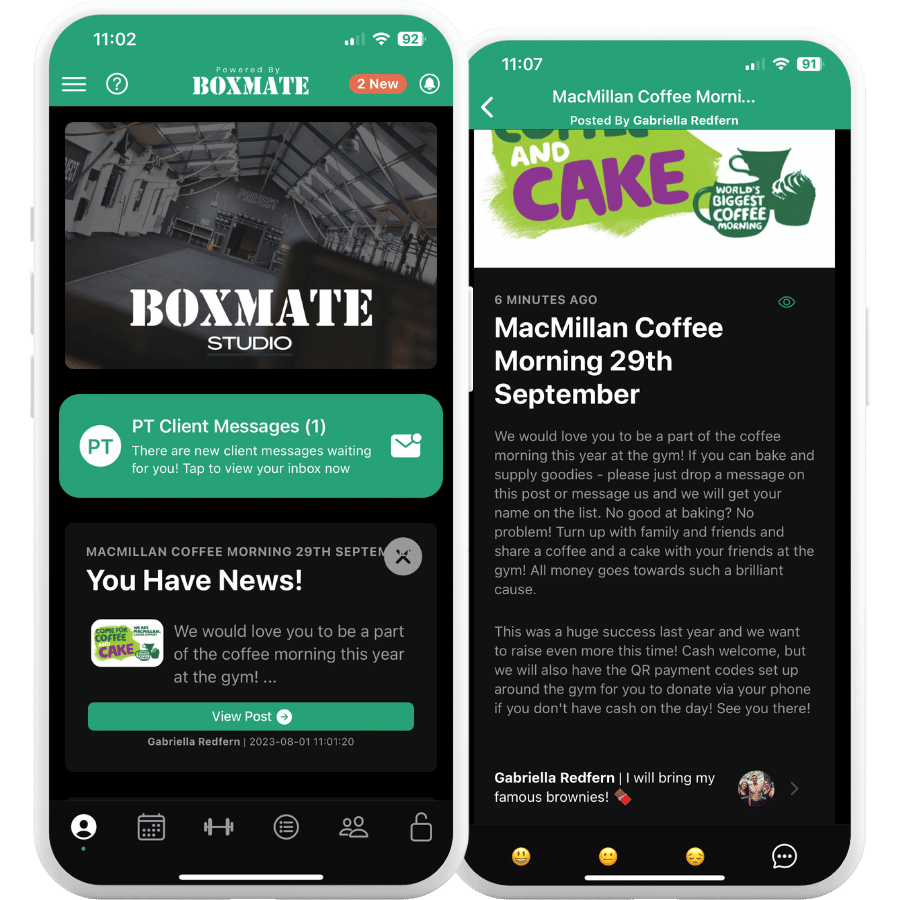 Get rewarded for your hard work
Goals, Challenges and Achievements
We all know how good it feels to be recognised when you're going the extra mile, which is why we celebrate your members with special badges when they hit big milestones at the gym. Members will earn badges for a wide range of accomplishments, from being a long standing member of your gym, to logging scores, sending high fives and more!
You and your coaches can also award special coach badges to those members who deserve extra credit for grafting at the gym, being a solid part of the community or a team player!
With BoxMate, your members can easily add and track their personal goals. You can also set them individual goals which will show up in their app too for them to choose to accept or decline.
Bring the community together by entering members into a joint challenge. Whether that's walking as many miles as they can in the month, getting outside every day, or a nutrition challenge. Create customised challenges to keep your members motivated and accountable.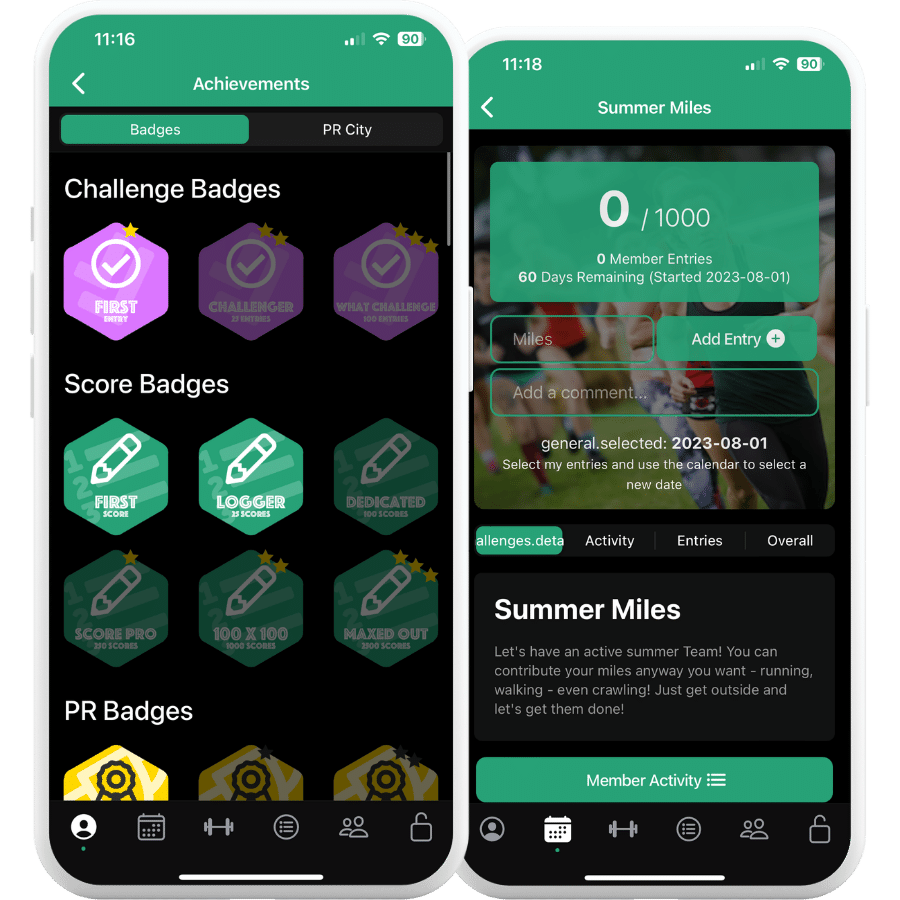 Stay competitive with gym leaderboards
Workout Library and Privacy
The workout and exercise libraries are already extensive and grow with every single workout or exercise you build and programme. Members have a record of every single score they've ever logged and can easily see graphs of progress to see how far they've come since joining you.
No more forgetting what they lifted last time - when you've programmed sets, your members will be shown a breakdown of percentages for their lifts to help them plan their strategy for lifting safely.
Got members who don't fancy being on a leaderboard? No worries. For some people their best competition is themselves – they simply select private in settings to keep scores between themselves and their coaches.
Members can also create their own personal sessions to follow alongside the gym programming and invite their friends to join them for an open WOD or extra workout at the gym.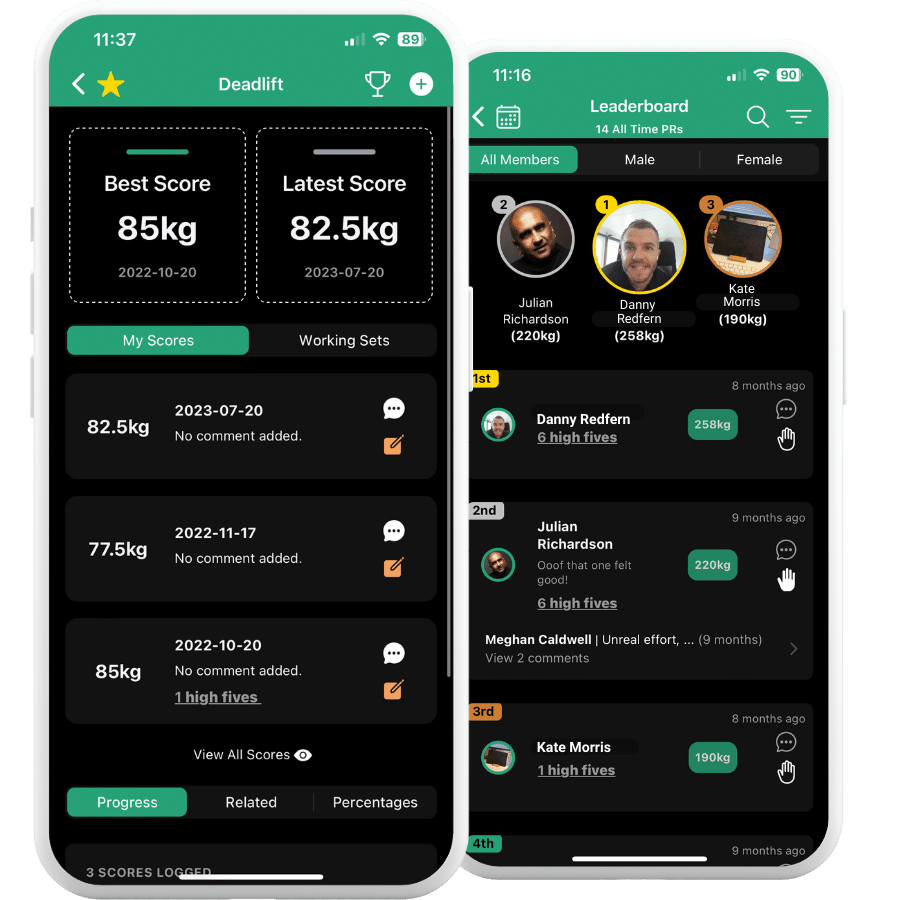 Both coaches and members love BoxMate. The new update with the added CRM system has been great for us!